CONVEYOR BELT PULL WIRE, LANYARD, PULL KEY OR ROPE SWITCH.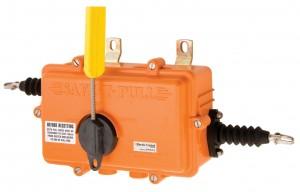 STP-MB/STP-MC Valox Resin Safe-T-Pull
Pull Wire Switch High Impact UV Stabilised PBT/PC non-corrosive body.
Tested to AS1755-2000.
Double lip oil seal on rods and reset operator giving IP67 protection.
316 Stainless Steel rods and screws.
Switch cannot be reset unless both trip wires are connected.
Double sided switch can cover up to 200mts.
STP-SSB Stainless Steel Safe-T-Pull