The position (rotary-angular) limit switch is used to control several handling system:
• sophisticated crane system:
the unit controls power operating system (ex. PLC) and allows the crane to slow-down and/or to stop running.
• hoist:
the unit is used to stop the hoist running whenever it reaches a "limit" position
Different combinations available for all standard system.
Customization available on request.
FCR
Standard: IEC/EN 60947/3
Case: Self extinguishing housing V0 UL94
Protection Class: IP65
Cam Switch
Enclosed thermal current: 16A
Rated insulation voltage : 690V
Product ID: P016 – Giovenzana line
Contacts: double gap – positive opening
Cable entry: N° 1 dia. 22.5mm
Versions: – single or double speed motor configuration
– 3,4 or 4 with mechanical stop positions
Notes: fully adjustable aluminum rods – 6x300mm with "0" indicator
– reinforced mechanical stop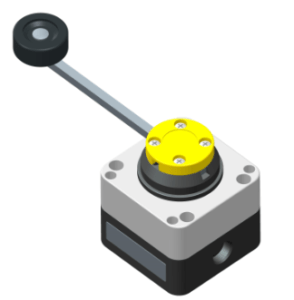 FFH
Standard: IEC/EN 60947/3
Case: Self extinguishing housing V0 UL94
Protection Class: IP65
Cam Switch
Enclosed thermal current: 20A
Rated insulation voltage : 690V
Product ID: PX20 – Giovenzana line
Contacts: double gap – positive opening
Cable entry: 1xM20 + 1xM16
Versions: – single or double speed motor configuration
Notes: fully adjustable aluminum rods – 6x120mm
– reinforced mechanical stop
– rubber covering wheel