Rotary Gear Limit Switches
The Giovenzana's rotary gear limit switch is a device used to control the number of rotation or direction angle of industrial and building machines. A typical application is controlling the position of the rolling shutter door or overhead cranes etc… .
The unit, through a gear system and cams transmission, controls 2, 4 or more microswitches so that after a definied number of revolutions, it can prepare the motor or the device to start or stop running.
The microswitches have a calibration screw that operates independently on each cam; so it can calibrate the opening and closing of each micro according the functional requirements needed.
The gear-based transmission system allows you to choose different ratios. It can also be supplied with rear shaft version or complete of linear detector (potentiometer or encoder) too.
FGR 1
Case: Self extinguishing housing V0 UL94
Main / cam shaft ratio: 12-033-050-075-100-150-200-400
Protection Class: IP65
Shaft type: – steel – coaxial shaft version available
Fixing type: – bottom – front (flanged version)
Microswitch: 8A – 250V – silver plated
IEC/EN61058-1 / UL1054
1NC-1NO changeover fast trigger positive opening
Microswitch max n° / notes: max 4 – micrometric adjustment roller lever control (long life)
Cam block: self-lubricating with transparent support for easier cam viewing
Cable entry: M20 or M16 (max 4)
Options: – N° 5 different cam shapes – potentiometer (direct ratio 1:1)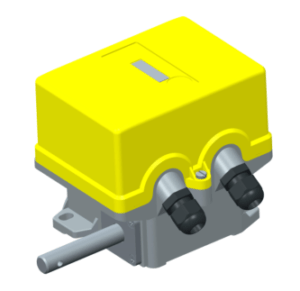 FGR 2
Case: aluminium housing self extinguishing cover V0 UL94
Main / cam shaft ratio: 012-033-050-100-200
Protection Class: IP65
Shaft type: – steel mounted on ball bearing – coaxial shaft version available
Fixing type: – bottom – front with FLG accessories
Microswitch: 8A – 250V – silver plated
IEC/EN61058-1 / UL1054
1NC-1NO changeover fast trigger positive opening
Microswitch max n° / notes: max 6 – micrometric adjustment
Cam block: self-lubricating with transparent support for easier cam viewing
Cable entry: M20 (max 2)
Options: – N° 3 different cam shapes