Spiroll, spiral wrapping band is designed to bind and protect hoses, wires and cables in harnesses and wiring looms.
Manufactured from either natural or black polyethylene, the material exhibits excellent electrical, abrasive and binding strength.
Spiroll's flexible construction enables the easy routing of wiring looms. Due to the material's durability, the product is re-useable and has almost unlimited expansion.
Depending on roll size and diameter, Spiroll is either supplied in specially designed dispenser boxes or plastic bag.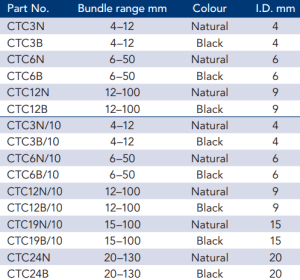 Quikflex braided (or woven) sleeving from CARROLL is a flexible, expanding harness medium, made from single filament polyester.
The woven construction allows Quikflex to expand in diameter considerably to firmly harness wire lengths.
Wires can also be poked through the sleeving, to enable harness breakouts.