HS Grade General Purpose, Thin Wall Tubing
This flexible CARROLL heat shrink tubing is manufactured from flame retardant, irradiated crosslinked, modified polyolefin.
Recognised by Underwriters Laboratories (UL) and Canadian Standards (CSA), the tubing exhibits a VW-1 flame retardant rating, (except clear), is rated at 600V and has an operating temperature range of -25˚C to 125˚C.
Shrink temperature is 90˚C and the shrink ratio is 2:1. Designed to insulate, colour code, strain relieve and provide abrasion and mechanical protection.
Tubing is supplied in either 1.2m (4 ft) lengths, full spools or we offer the convenience of full spools supplied in cut pieces to your specification. A complete range of diameters is available from 1mm to 102mm.
Note: Heat shrink tubing is sized by the tubing's diameter, not layflat dimension. Colours available are Black (BK), Blue (BL), Red (R), White (W), Green (G), Yellow (Y), Clear (C) and Green/Yellow stripe (GY).
For colour selection, add suffix to part number. e.g., For 10mm black tubing supplied in lengths – HSL10BK.
DWL Grade Dual Wall Tubing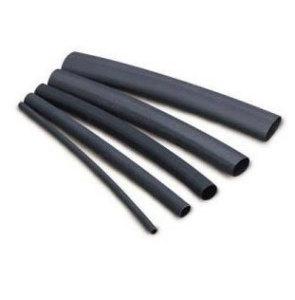 CARROLL Dual Wall tubing is manufactured from a co-extrusion of flame-retarded , flexible, 3:1 shrink ratio heat shrinkable tubing and a special adhesive lining.
When the tubing is heated, the adhesive lining melts and flows to form a positive environmental seal. The lining adheres to the outer tubing and the surface below, creating an excellent barrier to moisture penetration.
Typical applications include the sealing and insulation of electrical splices, terminations, connector backshells, battery terminals and repairs to damaged cable.
Due to the tubing's flexibility, high shrink ratio and the wide variety of surfaces to which the adhesive will bond, the product is excellent in areas requiring corrosion and mechanical protection.
HWL Heavy Wall Adhesive Lined Tubing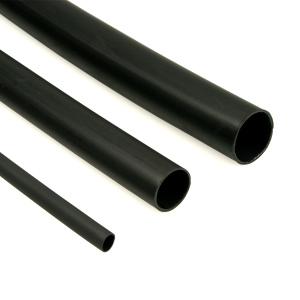 Heavy Wall tubing provides a fast, clean, permanent, safe and cost effective method of sealing, waterproofing, insulating and protecting cable joints and terminations in underwater or underground applications.
Voltage rated for 0.6/1kv applications, the tubing has a high variable shrink ratio, is UV resistant, and operates within a -55˚C to +90˚C temperature range.
The polyamide – based adhesive provides a high bond strength and protection against moisture, aggressive fluids and corrosion.