Complete Straight Adaptor Bodies
Harnessflex straight adaptor bodies are unique in that they feature both an anti vibration locking ring on the cap nut, to ensure the fitting remains tightened during assembly and in service.
An integral neoprene "0" ring imbedded in the mounting face, to seal the fitting against the junction box or enclosure.
Easy to put together by hand, the fitting achieves an IP67 sealing rating when all supplied components are used and correctly assembled.
Complete Flanged 90˚Degree Adaptor Bodies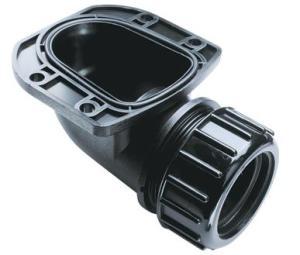 Used in place of an electrical connector where cables need to be passed through a bulkhead.
Complete 90˚Degree Adaptor Bodies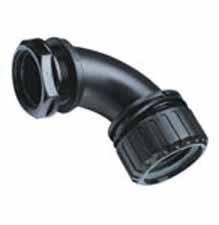 Harnessflex 90˚ adaptor bodies are similar to the straight adaptors, in that they feature anti vibration locking ring on the cap nut.
The seal between the adaptor body and enclosure is achieved by the neoprene sealing face washer supplied in the kit.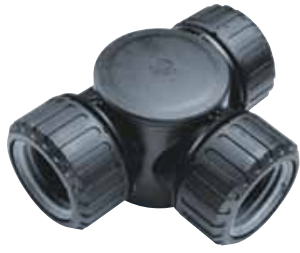 Harnessflex "T" pieces save time and space in the construction of wiring looms. Also featuring the unique anti vibration rings, the "T" pieces make branches from main harnesses simple and also in many instances can replace expensive junction boxes.
Through the use of the simple reducing kits, any outlet can be reduced down to any smaller conduit size, therefore saving money and space. "T" piece connectors are available to join "T" pieces together to form manifolds.
The method of attaching conduit to each outlet of the "T" piece is exactly the same as for the adaptor bodies shown above.
The inspection hatch can be removed in order to ease routing cables through the "T" piece but this must be refitted after assembly to maintain the IP67 rating.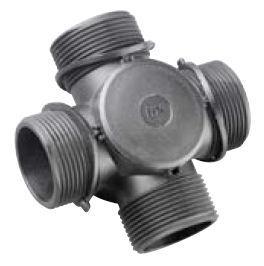 The Harnessflex X Piece exhibits all the sealing and anti-vibration features of the T Piece, and accepts the reducing kits allowing utilisation of 20, 16, 12 and 8mm conduit sizes from any of the 4 outlets.
A perfect, space saving, economical replacement for junction boxes.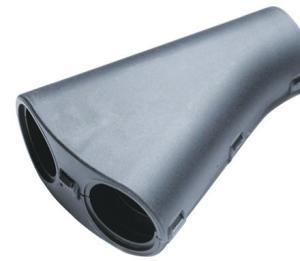 Y pieces provide branch outlets along a conduit run. Standard applications include insertion in vehicle engine or chassis harness where complete sealing is not required.
Splash proof to IP54. Sizes are available for use with conduit diamaters from 8mm up to 25mm.
The Y piece is supplied as one part and hinged along its length. They are simply applied as the final assembly item by locating onto the conduit corrugations and snapped together.
The fitting offers no restriction of the conduit bore.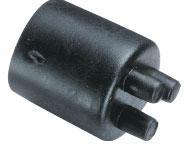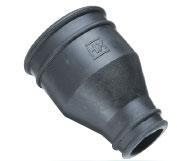 Where conduit is not terminated with an adaptor or fitting, end caps are used to seal the end of a conduit run when using one to five separate wires.
Suitable for NC10 and NC12 conduit, the end caps are supplied with either a 3 or 5 cable outlets, which are simply slit open when required.
Part numbers are EK03 and EK05.
Where conduit is not terminated with an adaptor or fitting, with the addition of two nylon cable ties, end sleeves are used to seal the end of the conduit when either single or multiple wires are used.
Part numbers are ESN12, ESN16,ESN20, ESN25 AND ESN32.
Heavy Duty Nylon Fixing Clip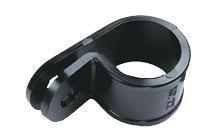 A one screw fixing P shaped clip for secure conduit mounting.
Available in either heavy duty Nylon 6/6 or steel with PVC insert (steel/stainless steelPVC in the Bundling Product section, of the catalogue).