For long life and dependable service, there are many factors to consider when selecting the appropriate cable tie for the application.
There are also various environmental conditions (such as weathering, flammability, chemical, radiation, moisture and temperature extremes), that will have detrimental effects on specific cable tie materials.
CARROLL offers one of the widest selection of cable tie designs, styles and materials in the world. With cable ties available in lengths from 100mm to 1168mm, tensile strengths exceeding 110 kilos, identification marker ties, screw and push mount ties, we have a design and style to meet your specific application needs.
Precision manufactured from UL approved nylon 6/6 with a flammability rating of UL94V-2, the nylon cable ties conform with mil-spec drawing MS-3367 and are tested under NATA Laboratory No. 987 & 1748 to meet or exceed the tensile strength requirements of MIL-S-23190D, and are UL recognised under File No. E193811.
For every cable tie, there is a Quikcrimper installation tool available to provide a fast, dependable method of application.
Natural Nylon 6/6
Primarily used in indoor applications. Life expectancy in ultraviolet light, (sunlight), is one
to two years*.
The normal operating temperature range of nylon 6/6 is -10°C to 85°C.
Black Weather Resistant Nylon 6/6
Primarily used in outdoor applications. Over a period of time, ultraviolet light attacks
most plastic materials and reduces their properties by breaking down the molecular chain.
A uniform dispersion of 2% carbon black provides uv resistance and increases the cable tie
life expectancy to 7–9 years*.
Small Light Duty Nylon Ties
Intermediate Duty Nylon Ties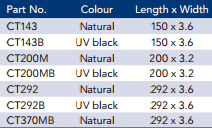 Standard Duty Nylon Ties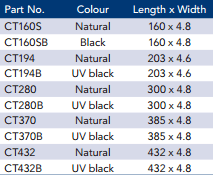 Heavy Duty Nylon Ties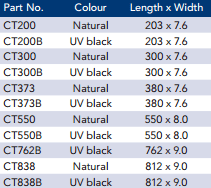 DESCRIPTION
Carroll terminals and splices have given many years of service providing testament to the quality and reliability of the design and manufacturing processes involved.
Carroll terminals are colour coded for different cable sizes allowing ease of identification and matching to the appropriate application tool.
The wide range of Carroll terminals are readily available and ready to ship.